Send Inquiry
Automatic Transfer Switch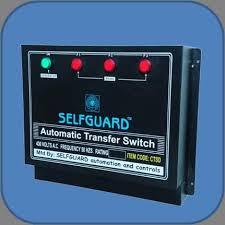 Automatic Transfer Switch
Automatic Transfer Switch
Introduction
Automatic transfer switch fabricated with sheet metal and coated with black color powder coated rust proof body with a size of 300mm x 250 mm x 115 includes all the features as per the requirement of customer. The unit is available from 15 KVA to 82.5 KVA.
The unit includes two contactors make Selfguard, one for mains and one for generator control. The contactors are automatically controlled with microcontroller circuit for accurate results.
Functions
During the presence of all three phases of mains the unit gives the output to load from mains section and if any of the phase goes off the contactor of mains section is automatically de- energized.
When the generator starts the load is automatically transferred to generator side. The output comes continuously from generator section till all the three phase are absent.
When all the three phase comes back the generator contactor is de-energized and with a inbuilt delay timer the load is again transferred to mains section. The indicators on the box shows the status of mains and generator input.