Send Inquiry
LGS-2E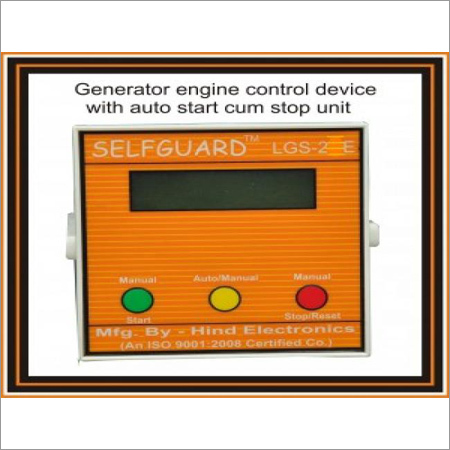 LGS-2E
LGS-2E
Engine control device with auto start cum stop unit (Item Code: LGS-2E)

Introduction -The Microcontroller/microprocessor based Engine Control cum Auto start and stop Device is designed to suit the necessary requirements of customer. - Backlit LCD display for easy reading of parameters. - All the inputs like main, generator and battery voltages are fully isolated to avoid malfunctioning of system. Suitable for all type of gensets. - Molded in 96mm * 96mm * 110mm plastic cabinet is suitable to mount in panel.

Display

Displays Voltage, Current, Frequency, RPM, Battery voltage and Engine run time when the generator is in running Condition.

Push Buttons-

Manual Start. - Auto/Manual - Manual Stop/Reset.

Protection and supervision

1. Engine safety : LLOP Trip, HWT Trip, LFL Trip and service due time tripping.

2. Alternator safety features: Over and under voltage trip. - Over and under frequency trip. - Over and under RPM trip. - Over current trip.

Functions:

Diesel engine starts automatically after the absence of mains supply with a delay time of 5 sec. Four more starting impulses if the generator does not start in first crank.
Automatic lock oud and fail to start message is displayed if the generator does not starts.
All the parameters are displayed like voltage,frequency. current, RPM, Battery voltage and Engine run time.
If any of the fault occurs like LLOP, HWT, LFL or eninge service due the generator automatically stops and the fault is displayed.
The generator will not start unless the fault is not removed.
The unit can be operatedin manual mode also.
The over current tripping and Engine Service due time can be set manually.
Note: We provide the sensors also if required.